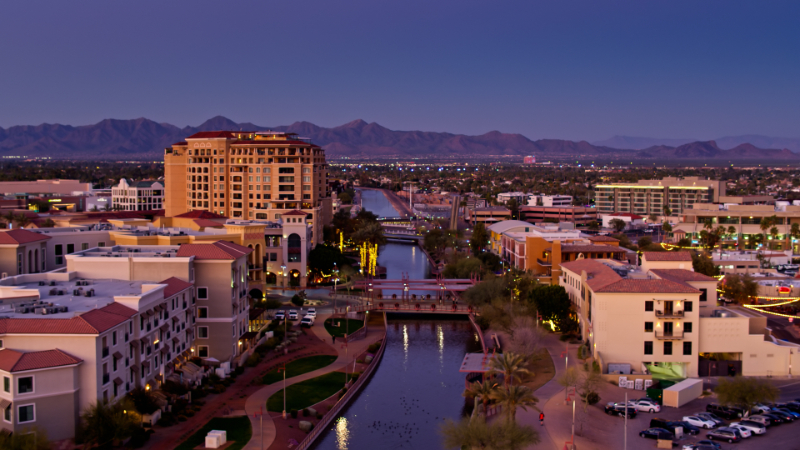 Scottsdale, AZ: Offering a Luxury Lifestyle Among The Scenic Desert
Scenic vistas of columnar cacti and legume trees of the Sonoma Desert belie the hidden wonders of Scottsdale, Arizona for people escaping to warmer climates. Residents consider Scottsdale the "Beverly Hills of Arizona" as it allows for fine living and is annually rated as one of the best places to live, retire, visit and do business. Tourists see Scottsdale as a place to seek out their pleasures of relaxation and high adventure that only the lush Sonoma Desert environment can provide. When you come to this neighborhood, you will become immersed in the luxury lifestyle that has made the area into one of the most desirable areas to find a home.
There's a Specific Neighborhood in Scottsdale That's Waiting for You
The city of Scottsdale is separated into 4 distinct regions: North Scottsdale, Central Scottsdale, Old Town/Downtown, and South Scottsdale. Each area holds a unique atmosphere and rewarding opportunities for residents seeking to fully embrace their passions.
North Scottsdale
With the McDowell Mountains as a majestic backdrop, people are flocking to North Scottsdale because of the budding economic growth of the Airpark Corridor that houses 2,500 businesses for employment opportunities. North Scottsdale is also considered an up-and-coming affluent neighborhood with Spanish Revival and Mediterranean style homes on large, luxurious lots. Annual events that draw large crowds to this area include the Barrett-Jackson Auto Auction and the Waste Management Phoenix PGA Open.
Central Scottsdale
Also known as the Shea Corridor, this Central Scottsdale area is highly desired by home buyers due to its resort atmosphere providing boundless restaurants, entertainment, outdoor recreation and nightlife. With home values so affordable in the neighborhood, this area makes it ideal for families and couples to stay active, enjoy the host of amenities, and be close to businesses that are within a short location to their homes. One of the most desirable activities is the Talking Stick Resort located in the Salt River Indian Community that is adjacent to Central Scottsdale. This popular resort features a 240,000 square foot casino with casino gaming, championship golf, deluxe spa treatments, exciting entertainment, and outstanding food.
Old Town/Downtown
A mixture of history and modern eclectic flair, the Old Town/Downtown region of Scottsdale offers the best that this city has to offer. Are you interested in cultural events, art galleries, high fashion, retail shops and some of the tastiest dining options in Arizona? Then historic downtown Scottsdale is the place to go. It provides you with a mixture of urban activities while still embracing its Old West Heritage.
In Old Town Scottsdale, you will find the state's largest 1880's western town remakes with Belle's Saloon and steakhouses. Visitors can watch action-packed stunt shows, ride in a stage coach, and take train rides. Old Town/Downtown also hosts the Parada del Sol Parade and Rodeo, which is a 3-day event put on by the Professional Rodeo Cowboys Association (PRCA) with bull riding, calf roping, wrestling and barrel racing. Additional activities include the Scottsdale Arts Festival at the Scottsdale Civic Center mall, and Major League Baseball spring training and sports events with the Arizona Diamondbacks, San Francisco Giants and Colorado Rockies that draws in crowds of fans from all around the world.
South Scottsdale
There has been some debate on whether to call the area from the border of Temple to Osborn Road as South Scottsdale to make it into its own small neighborhood. Yet this region certainly has a unique, vibrant community vibe that permits working class individuals to find a home without stretching their budgets. It has recently gone through a revitalization to draw in more commercial businesses and residents as home improvement initiatives allowed property owners to make vast improvements to houses that are placed on the seller's market. Yet, there are a range of different amenities available in South Scottsdale due to its close proximity to Old Town/Downtown Scottsdale as people head out to the Annual Fiesta Bowl to watch national championship college football teams face off to show everyone who is the greatest athletes in the country.
Let Scottsdale Show You the Wonders of Arizona
Home of the nation's largest wilderness area in the United States, people travel to Scottsdale to take advantage of the McDowell Sonoran Preserve and the 60+ miles of shared-use trails to view the diverse wildlife and natural desert beauty, while engaging in hiking, biking and other outdoor activities. Take part in a great workout that the mountains and desert offer along Pinnacle Peak Park, then head back to Scottsdale to take part in the yearly outdoor events, such as competitive bike racing at the Scottsdale Sports Complex.
Don't forget to check out the arts and culture scene along with the lavish spas and exquisite resorts. Scottsdale has world-class museums, the annual Scottsdale Culinary Festival, award-winning golf courses, the largest shopping mall called Scottsdale Fashion Square, and entertaining waterfront districts in Downtown Scottsdale to make the neighborhood a well-rounded community that's appealing to everyone.
Fall in Love with Scottsdale
Scottsdale has affordable housing for all price ranges, gorgeous high-end and custom homes, and some of the best schools with 33 public schools as part of the Scottsdale Unified School District. It is where people go to have pampered spa experiences, upscale hotel and resort staycations, dining at some of the finest restaurants, fabulous shopping, and more. When it comes to a lush and rich lifestyle, this resort atmosphere and nightlife makes it an ideal and happening place for people who are looking for a new home.

Sorry we are experiencing system issues. Please try again.