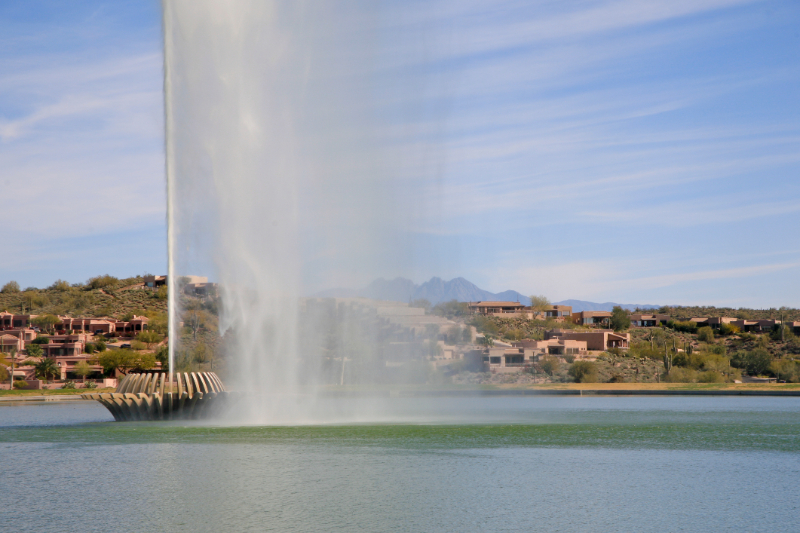 Fountain Hills, Arizona: A Natural Desert Landscape Community
When you arrive in beautiful Arizona from the Sky Harbor International Airport, travel 45 minutes northeast past Scottsdale and you will find the bustling community of Fountain Hills. This town reminds you of an oasis nestled against the mountain ranges of Four Peaks, McDowell Mountains and the Superstition Mountains while the Verde River winds its way east of the community. Fountain Hills has the motto, "All That is Arizona," and this saying fits the town well as you can get a taste of what it means to be a resident of this fantastic state without needing to live in the larger nearby communities.
Continuing the High Levels of Education Found Throughout Arizona
It can't be reiterated enough that Arizona has some of the most prestigious schools in the nation that continually rank high when it comes to student performance. If you have a family with school-age children, Fountain Hills can provide the stellar educational opportunities you desire. The community is served by the Fountain Hills Unified School District, which offers two elementary schools, one middle school and one high school.
For college students, Fountain Hills is served by a wide range of higher educational opportunities that are only minutes away. Students can take technology classes at the East Valley Institute of Technology in Mesa, online courses at the University of Phoenix in Tempe, and numerous degree programs from justice administration to business at Scottsdale Community College in Scottsdale. Arizona State University is also only a 30-minute drive from Fountain Hills as this university in Tempe was ranked #1 for being the "Most Innovative School in America" in 2016.
Employment Opportunities Abound in Fountain Hills
When it comes to employment, working professionals can seek out their dream careers in Fountain Hills. Small companies thrive in this community as there are well over 1,000 businesses ranging from retail to specialty shops. Large employers also recognize the benefits of seeking out the educated and dedicated workforce available here.   Major employers in the area are Safeway Stores, Firerock Country Club and Smith Food and Drug.
Educators who are looking for great housing opportunities when moving to Fountain Hills can also find employment at the Fountain Hills Unified School District which is also a top employer.   The Fort McDowell Casino and Gaming Center provides major employment while Fountain Hills seeks out to boost the economy through commercial and industrial development by creating more office and retail spaces like the Firerock Industrial Park.
Stunning Housing Opportunities for Your Luxurious Lifestyle
The real estate market is ramping up in Fountain Hills, offering residential homes for people looking for a place to live in a natural desert landscape. Buyers and sellers can get in on the great deals for new construction and existing homes that provides the right features and amenities perfect for a variety lifestyles. Many of the homes present amazing mountain views and a birds-eye view of the city. Peace and serenity in friendly neighborhoods attract residents from all walks of life.
No Shortage of Recreation along the Desert
Besides being stunned by the great real estate opportunities in Fountain Hills, there are also recreational and cultural marvels that cannot be overlooked. One of the first sights you will see is the gigantic fountain sending a massive plume of water up 560 feet into the air as this landmark is absolutely stunning. After you enjoy such a remarkable view, head out and enjoy other attractions that Fountain Hills has in store for new residents at the history of Fountain Hills and Arizona at the River of Time Museum.   Then, head out for a cultural adventure at the Fountain Hills Festival of Arts and Culture and the Fountain Hills Art Walks. Don't forget to check out the shows that are playing at the Community Theatre or you can listen to entertaining jazz music at the Jazz in the Hills.
If outdoor adventures are your favorite pastime, there are abundant activities found throughout the community. Take the boat out at Saguaro Lake or seek horseback riding along the McDowell Mountain Regional Park. You can also get in a few golf swings at Eagle Mountain Golf Club, Firerock Country Club or Sunridge Canyon Golf Club. Next, enjoy great food and festivities at annual events such as the Fountain Hills Great Fair.
Speak with one of our professional agents who can help you find the single-family home, townhouse, condo or investment property in this spectacular city of Fountain Hills. Ready to make a move to the beautiful Fountain Hills area? Call Isham Real Estate Group today at 480-534-7183.

Sorry we are experiencing system issues. Please try again.