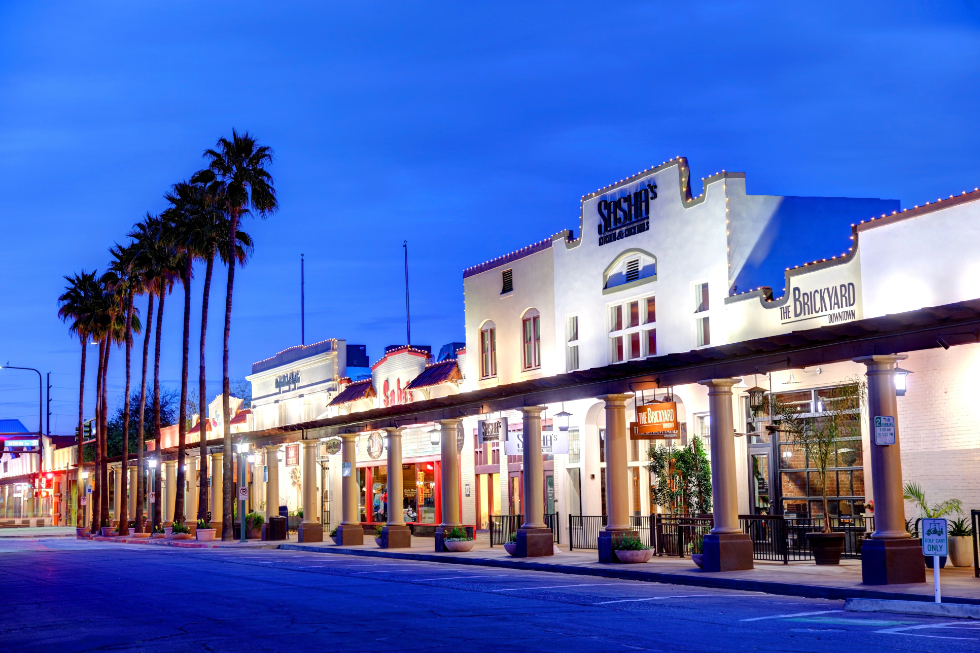 Paradise Valley: The Hottest Tourist Destination in a Small Community
When it comes to living in paradise in Arizona, what better place to find a home than in a town that has "paradise" in its name.   Paradise Valley is situated just north of Scottsdale, as this small affluent town has marked its place on the map as a tourist mecca when it comes to resorts and spa features.   Not to be confused with Paradise Valley Village located in Phoenix, the town of Paradise Valley is located along the Camelback Mountains and is cradled by the Phoenix Mountain Preserve on the west side and the McDowell Mountains in the east. While the town offers a relaxing lifestyle, it is infused with the welcoming desert landscape and abundant sunshine for 294 days of the year, inviting residents to seek out the excitement that awaits this beautiful town.
Considered Arizona's Premiere Tourist Destination
Considered a quiet desert oasis, Paradise Valley is one of the wealthiest places in Arizona. Such sophistication and luxury lifestyle has attracted a wide range of attractions and amenities that tourists and residents can truly enjoy. There are 8 amazing resorts and spas located in and around this town which offer the perfect activities for pure relaxation and tranquility. Some of the most popular places to check out are the Camelback Inn, Montelucia Resort & Spa, Hermosa Inn, Scottsdale Plaza Resort, Smoketree Resort, Sanctuary Camelback Mountain, Scottsdale Cottonwoods Resort & Suites, and DoubleTree Paradise Valley Resort.
In addition to resort amenities, people can take part in a range of fantastic outdoor recreation and activities. You can play golf at Mountain Shadows Golf Club or Camelback Golf Club, see the Goldwater Memorial on Tatum Boulevard and Lincoln Drive, or seek out fine dining and great shopping at the Paradise Valley Mall. The town also provides sporting events, desert hiking adventures, biking trails, and arts and cultural events. Let your desire for adventure and fun allow you to see Paradise Valley from a new perspective by taking a hot air balloon ride as you look down at the marvels of the Sonora Desert.
Employment and Education Paramount in Arizona
Due to the number of resorts and spas in the region, it isn't any surprise that major employers are part of the hospitality and tourist industry. The Montelucia Resort & Spa, Scottsdale Plaza Resort and Camelback Inn are some of the top employers in the area.   Nonetheless, Paradise Valley also offers other employment at the Phoenix Country Day School, Paradise Valley Country Club and the local government offices associated with the Town of Paradise Valley.
School opportunities are waiting for families who are taking advantage of the exquisite real estate opportunities in Paradise Valley. Many of the students attend the Scottsdale Unified School District, which consistently has some of the highest school ratings in Arizona. Some parts of Paradise Valley are also served by the Creighton Elementary School District and the Phoenix Union High School District.
Live at the Heart of Paradise When Coming to Paradise Valley
Paradise Valley might have small-town charm, but its abundant resorts, many job opportunities and educational options make this community a very big deal to people who are looking for a great home. Affordable custom and luxury homes are scattered throughout the town allowing individuals and families to enjoy the sophisticated lifestyle when choosing a property that fits into their homeownership dreams. There are real estate advantages available to buyers, sellers and investors in this beautiful town of Paradise Valley.   Call Isham Real Estate Group today at 480.534.7183 so we can help you find the perfect home for you and your family.

Sorry we are experiencing system issues. Please try again.